The young NBA season has already seen a few twists and turns.
The Utah Jazz and Portland Trail Blazers are both off to surprising 4-1 starts. The Jazz traded away their best players this summer. The Blazers made no major roster improvements from a team that missed the playoffs last season.
There are only three teams left that have not won a game. Over the course of four to five games, it is hard not to win at all in the NBA. Out of the three teams at the bottom of the early season, there are two that are not surprising, but then there is one high-profile team that fans expect better from.
The Orlando Magic (0-5) and the Sacramento Kings (0-3) have been struggling franchises for a while now and not much is expected of them. The LA Lakers (0-4) are a different story. The team is two years removed from being the NBA champion. Teams with LeBron James are expected to compete and not be winless after four games.
@ZEbetNG
There's now 3 winless NBA Teams this season!

* Orlando Magic: 0-5
* LA Lakers: 0-4
* Sacramento Kings 0-3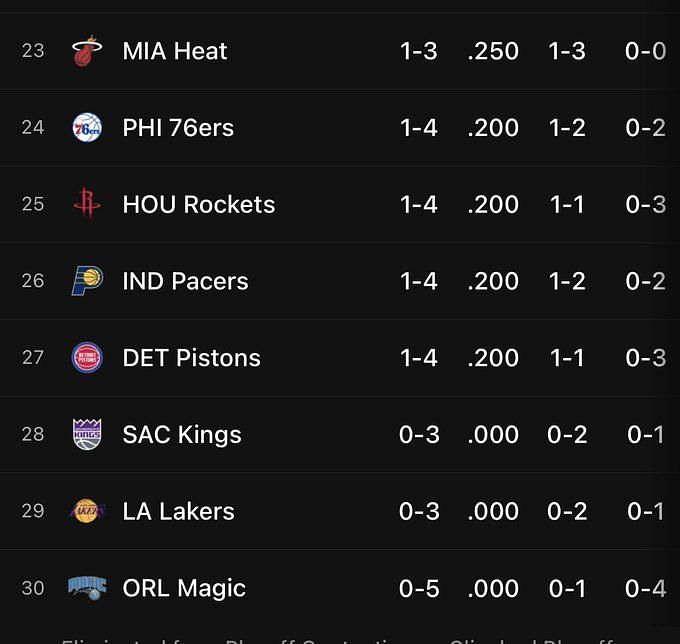 There's now 3 winless NBA Teams this season!* Orlando Magic: 0-5* LA Lakers: 0-4* Sacramento Kings 0-3 https://t.co/96JljAr26c
The Orlando Magic
Despite securing the No. 1 pick in the draft last season, the Orlando Magic have not shown any signs of improvement. None of their losses have been particularly close. If there is a bright side, it's that their closest game came against the Eastern Conference champion Boston Celtics, a 126-120 home loss against the best team they have played so far.
The downside is that the other four losses were not against great teams. The Hawks (3-1) were a playoff team last year, but they got bounced in the first round. The Pistons (1-4) got their only win against the Magic.
Orlando has been hit with bad luck when it comes to injuries. Guard Cole Anthony is out indefinitely on a team that has had Markell Fultz, Jalen Suggs and Gary Harris all miss time with injuries.
The team does have one bright spot, and that is their No. 1 draft pick, Paolo Banchero. The rookie is averaging 24.0 points to go with 7.6 rebounds per game to make him the early rookie of the year favorite. The team and their fans are hoping those good numbers can lead to a win soon.
@Ballislife
Paolo Banchero's first 5 NBA games

27 PT, 9 REB, 5 AST, 61% FG
20 PTS, 12 REB, 3 BLK
23 PTS, 5 REB, 3 AST
21 PTS, 4 REB, 2 STL
29 PTS, 8 REB, 3 3PT

The Magic are 0-5
Paolo Banchero's first 5 NBA games27 PT, 9 REB, 5 AST, 61% FG20 PTS, 12 REB, 3 BLK23 PTS, 5 REB, 3 AST21 PTS, 4 REB, 2 STL29 PTS, 8 REB, 3 3PTThe Magic are 0-5 https://t.co/lbpw01rs1W
The Sacramento Kings
The Sacramento Kings have not been to the playoffs since 2006. This is hard to do in the NBA, where more than half of the teams make it to the postseason. The team has not won this season, but they have played a few good teams. The Trail Blazers are 4-1, while the Clippers (2-2) and Warriors (2-2) are both expected to contend in the Western Conference.
The team is playing close games and lost their first three games by a total of 10 points. A few shots go their way, and the Kings could have a better record. The team's leading scorer De'Aaron Fox is emerging as their best player and is averaging a career-high 31.7 ppg.
No one had the Kings at the top of their NBA power rankings for 2022, but winless is a bad place to be.
The LA Lakers
The most disappointing team on this list has to be the LA Lakers. A team with two players who have won MVP awards like LeBron James and Russell Westbrook is not supposed to be this bad. The Lakers could possibly be the NBA's worst team.
The team's biggest disappointment might be Westbrook, who is taking a lot of the blame in the media, but Anthony Davis might own that title. While he is not playing badly, he is not playing to the level of a guy who makes your franchise better or justifies all the players and picks that were traded for him.
In James' 20th season, there is only so much he can be expected to do. This team could be in trouble already, and there really isn't a move they could make that would make them much better.
Poll :
0 votes
Edited by Joseph Schiefelbein