Published 10/28/2022, 6:00 PM EDT
Arguably, the most high-profile couple in the world right now, Tom Brady and Gisele Bündchen, are on the verge of divorce. The couple's relationship started to deteriorate after Brady came back from retirement and decided to play in the NFL once again. As per reports, Bündchen wanted Brady to be there with their family; however, Brady chose football, which irked the former Victoria's Secret model. 
ADVERTISEMENT
Article continues below this ad
Meanwhile, a video is going viral recently where both Brady and Bündchen were doing the couple's challenge. Their answers indicated a lot of things about the couple and maybe that's the reason they are going down this road. 
ADVERTISEMENT
Article continues below this ad
Tom Brady and Gisele Bündchen's couple's challenge
In 2020, they both took part in TikTok's viral couples challenge. They were both sitting on a couch and their son Benjamin was hiding behind them and guessing most of the answers; for the most part, he got it right.
When asked about apologizing after a fight, both Brady and Bündchen pointed toward themselves. Then, the TikTok challenge asked them, "Who's more patient?" In reply, Brady and his wife and son pointed toward the 7-time Super Bowl champion.
Interestingly, all of them agreed that Brady was more spoiled than his wife. On the question of "Who's more stubborn?", both Benjamin and Bündchen were pointing at Brady, while the Bucs quarterback was pointing at his wife. Notably, during their divorce saga, they have been equally stubborn. They both don't want to back down from their likely divorce. 
ADVERTISEMENT
Article continues below this ad
On the other hand, Brady, his wife and his son agreed that the NFL star needs more attention. After their alleged big fight, Bündchen has been staying separately. Later, she was the one who contacted a divorce lawyer first, as per reports. As per their couple's challenge, Brady was more patient, as he waited for Bündchen's response and finally got a divorce lawyer as well.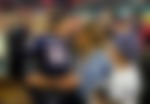 HOUSTON, TX – FEBRUARY 05: Tom Brady #12 celebrates with wife Gisele Bundchen and daughter Vivian Brady after defeating the Atlanta Falcons during Super Bowl 51 at NRG Stadium on February 5, 2017 in Houston, Texas. The Patriots defeated the Falcons 34-28. (Photo by Kevin C. Cox/Getty Images)
Recently, the former Brazilian model gave the NFL quarterback an ultimatum. As per sources, Bündchen told Brady to quit playing in the NFL and come back to their family, or else he will lose her forever. According to the source, she is doing this for her family. Before that, they did not file for a divorce; however, they decided to finally file for a divorce. 
ADVERTISEMENT
Article continues below this ad
Now, Brady is playing in the NFL for the Tampa Bay Buccaneers and currently having a poor season. Right now, they are almost out of playoff contention. However, Brady is still focusing on football, as he believes his team could come back from this poor run of form if they continue to work hard. 
Watch This Story: Tom Brady once refused to call himself the GOAT but why?