6:48pm: The Hawks have officially named Snyder as their head coach, according to a team press release.
"From our first conversation, it was clear that Quin had all the characteristics we were looking for in our next head coach. He has both an incredible basketball and emotional IQ, and we share the same core values and basketball philosophies of having honest communication and collaboration with players, tremendous attention to detail and placing a great emphasis on player development," Fields said in a statement.
Snyder is a former Hawks assistant coach.
"I am thrilled to go back to Atlanta as the next head coach of the Hawks," he said. "Landry has a tremendous reputation as an incredibly bright, high character, high quality individual and it was quickly evident that we share a passion and commitment to building a winning team with a strong foundation and high standards. I am excited to collaborate with Landry to create a successful program that devoted Hawks fans are proud of and cheer for and am grateful to Tony, Jami and the Ressler family for this opportunity.  My family and I are looking forward to immersing ourselves in the community and calling Atlanta home."
6:07pm: Former Jazz coach Quin Snyder has agreed to become the Hawks' head coach, ESPN's Adrian Wojnarowski reports.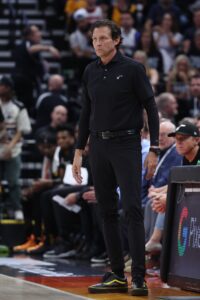 Atlanta will give Snyder a five-year contract and he could be coaching as soon as Tuesday, when the Hawks face Washington.
Snyder replaces Nate McMillan, who was dismissed by the franchise on Tuesday. At the time, the Hawks were expected to conduct a wide-ranging search but they quickly focused on Snyder.
Snyder was Utah's head coach from 2014-22 and compiled a 372-264 (.585) record during the regular season. However, the Jazz were unable to get over the hump in the postseason. They were 21-30 in the playoffs over the last six seasons, never getting past the Western Conference semifinals.
Assistant Joe Prunty served as the interim coach since McMillan was let go, including a 129-127 win over Brooklyn on Sunday.
The Hawks chose to hire a permanent coach before the end of the season because they hope to make a deep run in the Eastern Conference playoffs. They also wanted to give Snyder a chance to start implementing his program while evaluating the roster in order to facilitate their offseason approach.
Snyder will have a significant say in player personnel matters, according to Woj. Snyder has been in talks with GM Landry Fields, assistant GM Kyle Korver and owner Tony Ressler on a number of philosophical, team building and staff budgetary issues, Woj adds.
McMillan was named the club's interim coach in March 2021 in place of Lloyd Pierce. Atlanta made a surprise run to the Eastern Conference Finals, prompting the Hawks to remove the interim tag and give him a four-year contract in July 2021.
The Hawks finished the regular season at 43-39 and lost in the first round of the playoffs last spring and were 29-30 when they fired him. Atlanta won both of its games under Prunty.