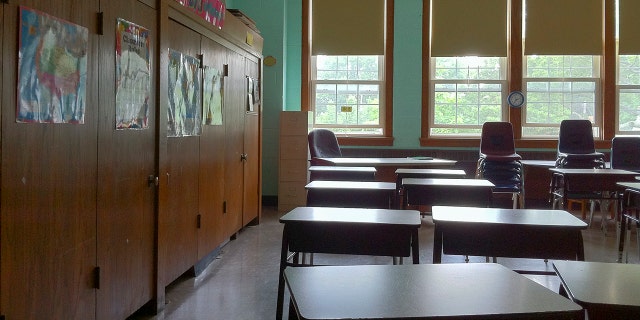 A Pennsylvania school district may incorporate "feelings" into its math curriculum.
Littlestown Area School District proposed an elementary math curriculum that could integrate social-emotional learning into its curriculum.
"This board needs to decide if they want to make social and emotional learning a part of our math curriculum. I do not believe it belongs in the math classes," said board member Jeanne Ewen at a board meeting on February 13. 
"Some of the questions inside the math workbook ask, 'Are you understanding how other people feel?' What does this have to do with teaching math?"
SCHOOL DISTRICT FORCED TO PAY OVER 100K IN LEGAL FEES AFTER BANNING MOMS FROM EXPOSING PORNOGRAPHIC MATERIALS
According to a global nonprofit called the Committee For Children, social–emotional learning is an educational method that aims to help people develop the self-awareness, self-control and interpersonal skills that are needed for everyday life.
"This is just re-packaged critical race theory is what this is," Board member Nicki Kenney said.
The "Reveal Math" program "explores mathematics through a flexible lesson design," a "Program Overview" reads for kindergartners through fifth-graders.
TWO MOMS SUE NEW YORK SCHOOL DISTRICT FOR 'EMOTIONAL DISTRESS' CAUSED BY MASK ENFORCEMENT
Furthermore, it reads that the program will "provide access to rigorous instruction with embedded teacher support and scaffolds" which include lesson models and routines, social-emotional learning, language and English learner supports, and fluency.
The book prompts the reader to "support the whole child with social and emotional learning integration."
"Every lesson integrates a social and emotional learning objective along with the math and language objectives of the lesson, addressing the CASEL Social and Emotional Learning competencies throughout each grade level."
The Reviewers Guide Unit 2 section of the textbook prompts students to "Be curious."
"Math is … mindset. How does identifying your feelings and emotions help you?"
It goes on to say that the Social and Emotional Learning objective is introduced in the Be Curious moment with the Math is … mindset prompt. Teachers have instructional support to connect the Social and Emotional focus to the content objective for the day."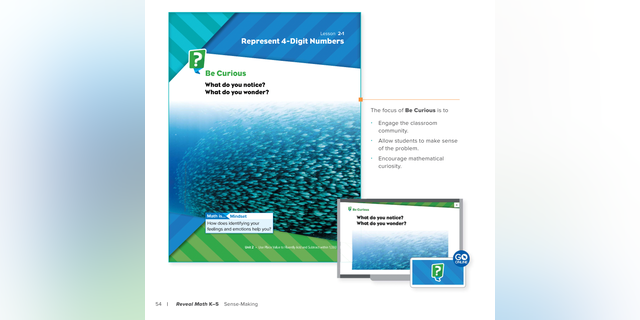 The social-emotional learning objective is to enable students to collaborate with peers to complete a task.
'TRANS LIVES MATTER' PROTESTERS OCCUPY OKLAHOMA STATE CAPITOL: 'THIS IS OUR HOUSE!'
LASD board members were determining whether social-emotional learning should be a part of teaching math.
"As an elementary school teacher, you're also trying to teach social skills," she said, recalling her early education as a kindergartener in the early '70s. "You were taught social skills as well, back in the day. SEL is not all critical race theory. It's not."
A parent named Janell Ressler questioned the program during the public comment portion of the meeting.
"Why do students need to incorporate their feelings into solving math problems?" Ressler asked.
"Elementary students in this district need to be taught math in their math class, not equity and social discourse. This has nothing to do with solving math problems," Ressler said.
CLICK HERE FOR THE FOX NEWS APP
Board vice-president Yancy Unger said that more research on this particular math program was needed.
The program will be further discussed and demonstrated at the Curriculum, Co-Curriculum, & Policy Committee on March 7 at 5 p.m.
Fox News Digital reached out to LASD for a comment, but they did not immediately respond.