The family of six-year-old Daithi MacGabhann have travelled to Westminster to watch the regulations introduced by the Government clear their Commons stages.
The Government has moved to progress the stalled legislation on the opt-out donation system because the political impasse at Stormont means local Assembly members have been unable to convene to pass the regulations.
Daithi MacGabhann, six, and his father Mairtin, centre, outside the Houses of Parliament in London (Jordan Pettitt/PA)
The Northern Ireland (Executive Formation) Bill, which will include an amendment on Daithi's Law, is expected to move through all stages in the House of Commons later.
Speaking at Westminster, Daithi's father Mairtin MacGabhann said: "It's an emotional day and a very proud day.
"The victory is finally sinking in. I don't think it will fully sink in for a few years maybe.
"We are here, we are outside Westminster, we are going in hopefully to hear the victory that is Daithi's Law.
"We have met with the Secretary of State (Chris Heaton-Harris) this morning. There was celebration in the air.
Mairtin MacGabhann said it was 'a very proud day' (Jordan Pettitt/PA)
"We are just delighted, beyond proud of Daithi, beyond proud of ourselves and looking forward to Daithi's Law being implemented.
"Over the past few weeks we have been let down again and again. We didn't think we would be here today, but we are."
Mr MacGabhann said he expected the Bill to get Royal Assent on March 6 with Daithi's Law in place for early summer.
Last week, a bid to restore the Assembly to pass the law failed when the DUP again exercised its veto to prevent the election of a speaker, meaning no further business could be conducted.
Northern Ireland Secretary Mr Heaton-Harris said he was taking the "exceptional step" of progressing the legislation at Westminster following cross-party support for the plight of Daithi.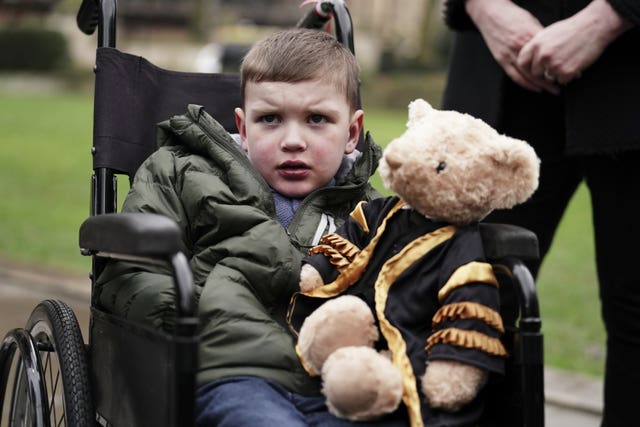 Daithi MacGabhann, who is waiting for a heart transplant (Jordan Pettitt/PA)
Daithi smiled and waved to MPs as the Commons debate got under way on Wednesday.
Mr Heaton-Harris praised the family for their "valiant efforts", telling MPs: "They should not need to be here today to see this change being put in place. The Assembly could and should have convened to take this across the finish line.
"I recognise that this issue is exceptional both in terms of the sheer importance it holds and also the cross-party support it commands both in Northern Ireland and this House, and on that basis the Government has tabled… important amendments to this Bill to facilitate those changes to be taken forward in the Assembly in the continued absence of a speaker."
Mr Heaton-Harris said the changes will become operational by the spring.
He added: "When I was talking with Daithi earlier today I asked him whether he fancied his chances of getting elected here and trying to put us all straight, because a bit of common sense in some of our dealings would probably go a long way, and I think he and his family have displayed that in huge quantity.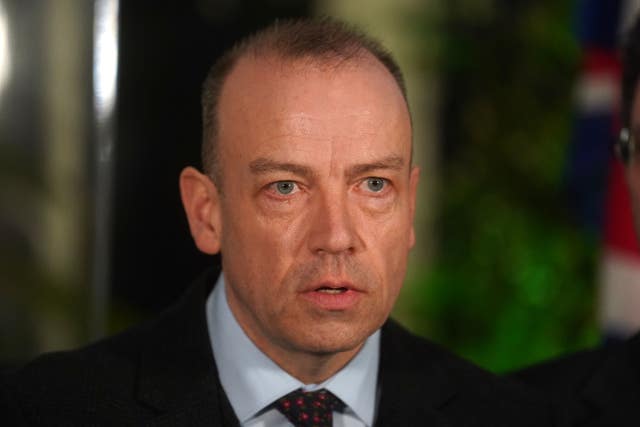 Northern Ireland Secretary Chris Heaton-Harris (Brian Lawless/PA)
"I know he also met Mr Speaker (Sir Lindsay Hoyle) and is now the proud owner of a Speaker teddy bear."
The opt-out system, which already operates in the rest of the UK, will mean adults in Northern Ireland would be presumed to be donors, unless they took a decision to opt out. It was being implemented to increase donation rates in the region.
The Government Bill will also delay the requirement for the formation of an executive at Stormont until January 18 next year and delay an Assembly election to April 11 at the latest.
The Government said the additional time would allow the Stormont parties "to focus attention on restoring devolved institutions" as well as providing space for continued UK/EU dialogue over the Northern Ireland Protocol.
The DUP collapsed the devolved executive a year ago in protest at the post-Brexit protocol and the party has made it clear it will not lift its block on powersharing until radical changes are made to the contentious Irish Sea trading arrangements.