Monterey Park, California - Ten people were killed and at least 10 others were injured when a gunman opened fire at a ballroom dance studio in Monterey Park on Saturday night, the Los Angeles County Sheriff's Department said. The search for the suspect remains active.
The shooting occurred near the site of a Chinese Lunar New Year celebration. Tens of thousands had gathered Saturday for the start of a two-day festival, one of the largest Lunar New Year events in the region.
Firefighters pronounced 10 of the victims dead at the scene, Meyer said. At least 10 others were transported to numerous local hospitals, and their conditions range from stable to critical.
"When officers arrived on scene, they observed numerous individuals, patrons ... pouring out of the location, screaming. The officers made entry to the location and located additional victims," Meyer said.
There was no much information on the suspect besides that he is male and still at large. There is no known motive, nor a description of the shooter.
The mass shooting, one of California's worst in recent memory, happened in the 100 block of West Garvey Avenue at around 10:22 PM, sheriff's Capt. Andrew Meyer told reporters Sunday morning.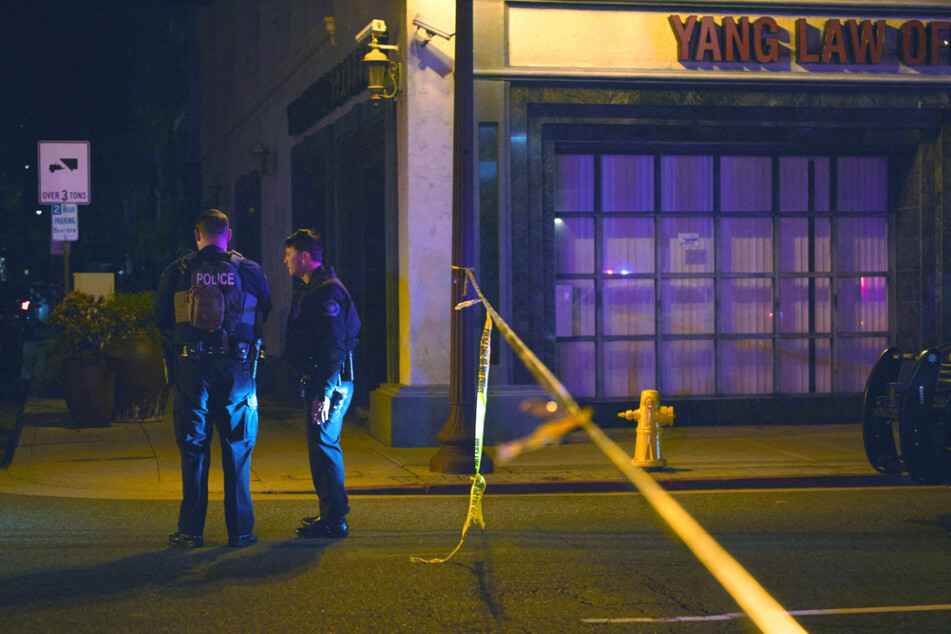 Police responded to a shooting in the Monterey Park area of Los Angeles on Saturday night.  © 
Witnesses nearby told of a harrowing scene and panic.
Seung Won Choi, who owns a seafood barbecue restaurant on Garvey Avenue across from where the shooting happened, said three people rushed into his restaurant and told him to lock the door.
They said there was a man with a semiautomatic gun in the area. The shooter, they said, had multiple rounds of ammunition on him, so that once his ammunition ran out he reloaded, Choi said.
Wong Wei, who lives nearby, said his friend had gone to the dance club that night with a few of her friends. His friend was in the bathroom when the shooting started.
When she came out, he said, she saw a gunman and three bodies — two women and one person who was the boss of the club, Wei said. He said his friend escaped to his home around 11 PM.
The shooter was carrying a long gun and appeared to fire indiscriminately, his friends told him.
"They don't know why, so they run," he said.
Earlier in the day, crowds were enjoying skewers and shopping for Chinese food and jewelry in the area. Saturday's New Year festival hours were scheduled from 10 AM to 9 PM.
John (27) who declined to give his last name, lives near the shooting site. He got home around 10 PM and heard about 4 or 5 gunshots, he said. Then he heard police cruisers "smashing" down the street. He went downstairs at around 11:20 PM to see if the shooting occurred at the New Year festival.
"My first concern was I know they're having a Lunar New Year celebration," he said. But he said he saw that the festival had already been cleaned up for the day when he arrived. He went to the scene of the shooting and saw one person being put on a stretcher. Another person had a bandage on their arm.
Video on social media showed police and fire units swarming an area on Garvey Avenue and treating victims.
Injured people were taken to multiple hospitals in the area.