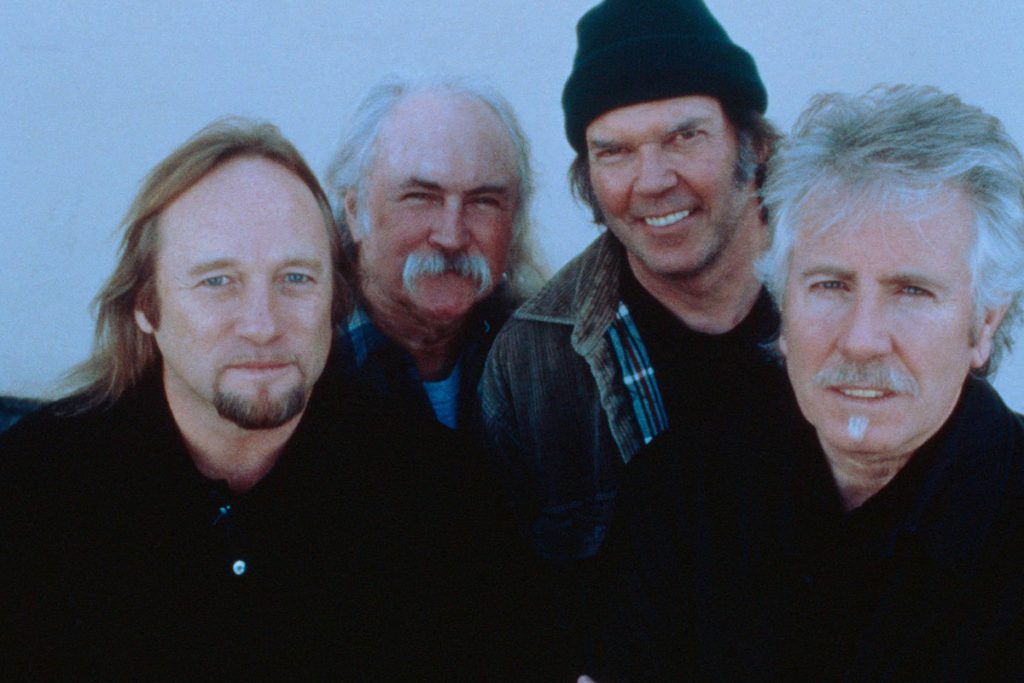 David Crosby lived to be 81, three decades into his second liver. That alone is worth celebrating. That he left us so much beautiful music is an incredible legacy. For those of us who are fans, but didn't know him, it's certainly no tragedy.
But one thing I find a little sad is how he left it with his CSNY bandmates the last years of his life.
Crosby died Thursday, just as I was a having my own reunion with my old bandmates and close friends in L.A. And considering how important we remain to one another after far fewer years than Crosby played with his comrades – and our collective musical legacy consists of my uncle occasionally remembering he has one of our old demos from 1992 on a shelf somewhere – does make me a bit sad.
I interviewed Crosby once for 15 or 20 minutes a couple decades ago. It was a lovely conversation. It was during the George W. Bush administration, post-Iraq-invasion, when I think I was trying to do a story about whatever new protest music was being produced as a result.
Britney Spears came up because … I don't know. It was the early aughts? If you're exploring the intricacies of world politics, how does Britney Spears not come up? Crosby fed me a classic line: "Britney Spears is as deep as a birdbath," or something like that.
He'd already used the line on other reporters, but what did I care? I was talking music and politics with a guy who played Woodstock.
Of course, everyone this week immediately jumped on social media to say what a tragedy his death was. No it wasn't. It was the end of a triumphant life, a beautiful voice and a pivotal figure in the history of rock and roll music we all take for granted.
The second to last day of his life, David Crosby was on social media making jokes about going, or not going, to heaven. Good for him.
But I can't stop thinking about how he left things with his old Crosby, Stills, Nash & Young bandmates those last years. Crosby, being Crosby, shot off his mouth to the point of ripping Neil Young's then new girlfriend, Daryl Hannah as a "a purely poisonous predator" in 2014. Everyone was pissed, He went too far for no good reason and – bingo – there goes that last CSNY reunion, everyone thought.
That was too bad. Not for fans – there'd been enough reunions and mediocre new music and last glory grabs. It was too bad for the four of them. Because there's nothing quite like growing old with your close friends and former bandmates.
I saw CSNY at least twice. If you go to Bridge School shows enough years, it's difficult to remember who played with whom. I know I was really moved seeing them on their big reunion tour with Young in 2000. They sounded amazing and they looked healthy and happy.
But they ended things badly – at least Crosby and Young did, from what we know. It's not clear if they spoke near the end of Crosby's life and, let's face it, having four strong personalities (one of the very first rock supergroups comprised of musicians already famous in other bands coming together) playing together over the decades is fairly miraculous. Especially considering Crosby and Young's outspoken, alpha male personalities.
All his former bandmates praised Crosby the day after his death, including Young, who said "I love you, man."
That's nice. I hope he said it before Crosby died. Otherwise … what's the point, Neil?
How stupid to spend so many important, last years of an on-again, off-again musical partnership – not to mention friendship – in a public pissing match over a guy talking shit about his buddy's girlfriend. You don't do that. Cliches are sometimes accurate, but life really is too short.
I happened to be in LA with my old friends, which also happened to be the anniversary of our singer's death. It's kind of a silly comparison, as our achievements happened mostly in our own young and silly imaginations. No reunion is coming, mostly because I can't play more than two songs without needing electrified paddles jammed against my chest.
But we're friends – real friends. We know each other's secrets. We've been there for each other during some truly rotten times. These are the two guys I can always call if my life is suddenly hanging over a cliff. They will – and have – pulled me back. As I will for them.
We went to a club Friday and just sat in a room Saturday night and talked for four hours. Some real personal and meaningful stuff was said. Stuff that won't be repeated outside that room. We also managed to stay out past midnight two straight nights, which … wow.
We agreed to do it again in a couple months with instruments. Because … why not? Picking up in your early 20s and moving to Hollywood to try to become famous and doing all those wonderful things together brought us closer than most families.
We're only in our 50s, but it already feels like we're counting days. David Crosby seemed like a guy who understood the value of friendship, the brotherhood of being in a band and being part of something that felt bigger than himself. I hope he didn't die without telling his old bandmates that and hearing it back from them. Music is entertainment and drama, but that's just a bad way to end the show.
Follow music critic Tony Hicks at Twitter.com/TonyBaloney1967.