Published 01/22/2023, 8:11 AM EST
Gisele Bündchen and Tom Brady may have ended a 13-year-long marital association where they shared two children. But the power couple will always share a mutual respect for each other, as was obvious from their "amicable" divorce settlement back in October 2022. And the admiration is not new.
Back in 2018, in her book 'Lessons: My Path to a Meaningful Life', Gisele compared her past relationships to the one with the former New England Patriots quarterback. And after a lot of ups and downs, Tom Brady's stability impressed her the most. That and many other things helped sustain the long marriage.
Tom Brady was the calming force Gisele Bündchen needed
ADVERTISEMENT
Article continues below this ad
Brady's winning composure is no secret to the NFL world. The seven-time Super Bowl champion scripted a historic 28-3 comeback against the Atlanta Falcons for his sixth ring. And his teammates over his 23-year career have borne testimony to his mental strength and abilities.
DIVE DEEPER
After dating celebrities like Leonardo DiCaprio before meeting Brady, Gisele knew exactly what she wanted in order to settle and have a home. "In the past, I've been in romances where I felt I was swimming in fast-moving waters and others where the water was calm and still. When I chose Tom to be my life partner, I was fortunate to find a man calmer than he is stormy. As his teammates will tell you, Tom is someone you can count on," Gisele narrates in her book.
Tom Brady gave her a stable foundation. And Gisele admits that she may never be as cool as her now-former husband.
Brady's patience came in handy during an emergency
ADVERTISEMENT
Article continues below this ad
There are many instances of Tom Brady's rationality and analytical mind coming in handy for his family or his teammates. Gisele describes one such in her book when their son, Benjamin, dislocated his elbows and started frantically screaming. Gisele was also in a state of panic "until Tom appeared and took control of the situation." Also, they two shared the same values for health and fitness.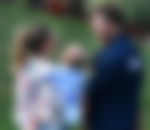 FOXBOROUGH, MA – AUGUST 11: New England Patriots. Quarterback Tom Brady was met after practice on August 11, 2014 by his wife Gisele Bundchen and their son and daughter. The Patriots held an afternoon practice session on the fields outside of Gillette Stadium. (Photo by Jim Davis/The Boston Globe via Getty Images)
Gisele knows Tom's accountability will always come in handy. This played a major role in their co-parenting, and joint custodial plan for Benny and Vivian Lake. After TB12's inevitable retirement from the NFL, Gisele and Brady will also be living close to each other. Bündchen is building her $11.5 million Miami mansion right across the waterway from Brady's future Biscayne Bay property.
ADVERTISEMENT
Article continues below this ad
WATCH THIS STORY: Two months after the divorce Tom Brady's ex-wife Gisele Bundchen carves an independent woman identity- how?
After making her much-awaited comeback into the world of fashion, Gisele is currently spending some quality time in Costa Rica. Brady is back in the Miami area to spend time with the kids after his Tampa Bay Buccaneers lost to the Cowboys in the wild-card round.