Published 01/21/2023, 2:00 PM EST
The average age of a UFC fighter is 31 years old, yet at 42 years of age, Glover Teixeira became the UFC light heavyweight champion. Not a small feat by any means. Teixeira is an ageless wonder and the oldest champion in UFC history. He sat down with retired light heavyweight champion and UFC analyst Michael Bisping for a candid interview. The two fighters had a connection while talking, even though they never stepped into the octagon together.
During the interview, they covered a lot of topics, but one, in particular, stood out. The 43-year-old light heavyweight title contender revealed which loss bothers him the most. Moreover, this was a personal and intimate moment that showed the human side of the fighters.
ADVERTISEMENT
Article continues below this ad
The ageless wonder's quest for redemption: Teixeira vs Prochazka
During the interview, Michael Bisping asked Glover Teixeira about his upcoming fight and potential rematches with past opponents. To which Teixeira replied with excitement and determination, "Yes, no doubt. No doubt, man. That fight for Jiri, for myself you know. Like I say, that loss is too. I can't, I can't digest that loss, you know. That was crazy the way it happened. So we just got to do it again."
It's clear that Teixeira wants to prove to himself and the world that he can defeat Jiri Prochazka and get the victory that eluded him in their last fight. This drive and determination are what make champions and Teixeira has it in spades.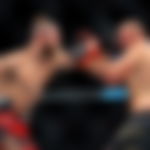 Jiri Prochazka (L) and Glover Teixeira (R) at UFC 275. Prochazka won in the 5th round.
It's exciting to think about the possibility of a rematch between Teixeira and Prochazka. These two fighters have a history and the stakes will be high. Moreover, Prochazka earlier even flirted with the idea of a rematch. With Teixeira's drive to redeem himself and Prochazka's desire to prove his victory wasn't a fluke, it's sure to be a thrilling fight.
Glover Teixeira: A champion's mentality!
During the interview, Bisping had this to say about Teixeira: "That's why people love you, Glover. Because obviously in the cage, you know you're you're world-class fighter. But you're sitting there even talking about your losses with a big smile on your face. I don't think I've ever seen you in like a miserable mood or or kind of pissed off."
ADVERTISEMENT
Article continues below this ad
Glover Teixeira replied with a smile on his face, "You can ask my wife here. She's right here. You know, most of the times I try to embrace everything, you know. The hard time and the good time and just uh, be glad to. I always looked at positive signs of life, you know what I mean."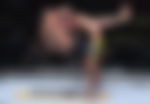 LAS VEGAS, NEVADA – NOVEMBER 07: (R-L) Glover Teixeira of Brazil takes down Thiago Santos of Brazil in a light heavyweight fight during the UFC Fight Night event at UFC APEX on November 07, 2020 in Las Vegas, Nevada. (Photo by Jeff Bottari/Zuffa LLC)
It's clear that Teixeira has a champion mentality. He doesn't let the losses get him down and always looks for the positive in every situation. This mindset is what has helped him become a successful fighter and a beloved figure in the UFC. His ability to stay positive through the good and bad times is something we can all learn from.
ADVERTISEMENT
Article continues below this ad
Watch This Story – "HE BEEN WORKING WITH GLOVER & GSP" – UFC FANS REACT AS ALEX PEREIRA FAILS TO BEAT JOE ROGAN'S HARDEST KICK RECORD