Novak Djokovic and Iga Swiatek start the year-opening grand slam as favourites. ADAM PEACOCK analyses form, the draw and more to see who else is in the mix, and which of the 17 Australians loom large.
Ash Barty's triumph and Novak Djokovic's tumult made the 2022 Australian Open unforgettable. Yet again, there is much to look forward to and subplots aplenty.
MEN'S
WINNER: Novak Djokovic
WILDCARD: Matteo Berrettini
Based on history and current form, Novak Djokovic deserves to be a heavy favourite. Rafael Nadal has his fourteen titles on the Parisian clay, while Djokovic is going for a tenth on the concrete of Melbourne Park.
Since the Serb dropped gluten in 2011 and became great, he has lost just four times on Australian soil; Stan Wawrinka in 2014, Denis Istomin in 2017, Hyeon Chung in 2018 and Alex Hawke MP last year.
Motivation from the legal stoush burns, but it goes deeper than that for Djokovic. He was motivated from the day he picked up a racquet in Belgrade. No-one from his part of the world has done what he has done in any sport. Why stop now, at 35? Despite hitting the ball so cleanly, one sign in Adelaide wasn't great with a little hamstring niggle popping up in his semi-final with Daniil Medvedev. Stress was apparent, especially in the final with Seb Korda when the outlet was to throw out his agent, Edoardo Artaldi, from the players box. With a week to clear his head, and deal with the questions about returning to Melbourne, Djokovic is fourth seed in name only.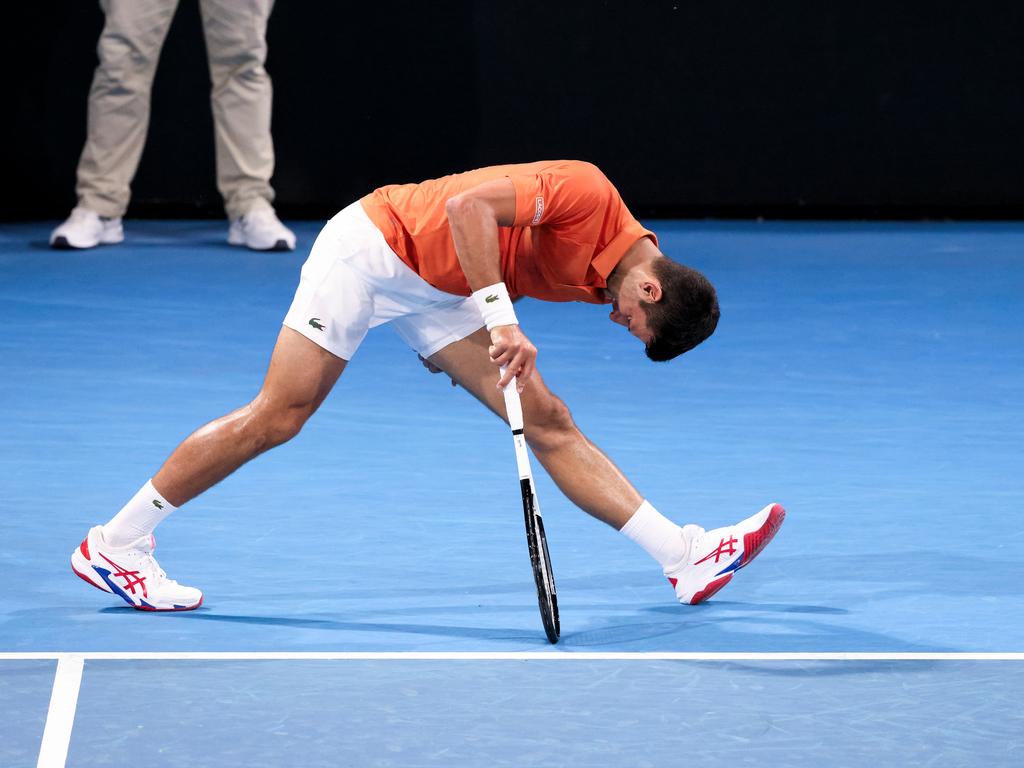 A tweaked hamstring could be the only thing that stops Novak Djokovic. Picture: Peter Mundy/Speed Media/Icon Sportswire via Getty Images
Daniil Medvedev is the second pick. The Russian didn't have a comfortable 2022. Russia invaded Ukraine, which took him out of Wimbledon, while a hernia issue stopped his clay court season gaining any momentum. He lost in the fourth round to Nick Kyrgios in New York, which like the second-round encounter at the Australian Open last January, deserved to be later in the tournament. Adelaide provided the occasional reminder of the 2019-2021 Medvedev, the one who stands four metres behind the baseline and can't be broken down. The semi-final loss to Djokovic in Adelaide was tight. Medvedev won't be worried about his chances against Nadal in a possible quarter-final. A huge threat.
With Nadal as No.1 seed, the top half of the men's draw looks deeper in quality than the bottom, though much will depend on the physical status of the Spanish great. His losses in the United Cup shouldn't be overanalysed. At 36, the end is near, and now a father, the preparation is different and more time is needed to hit full pace. Jack Draper, the British player who sounds like a protagonist in a crime-fiction novel, is a horror draw first up. But how can you count Rafa out? A year ago he was far from favourite, and look what happened.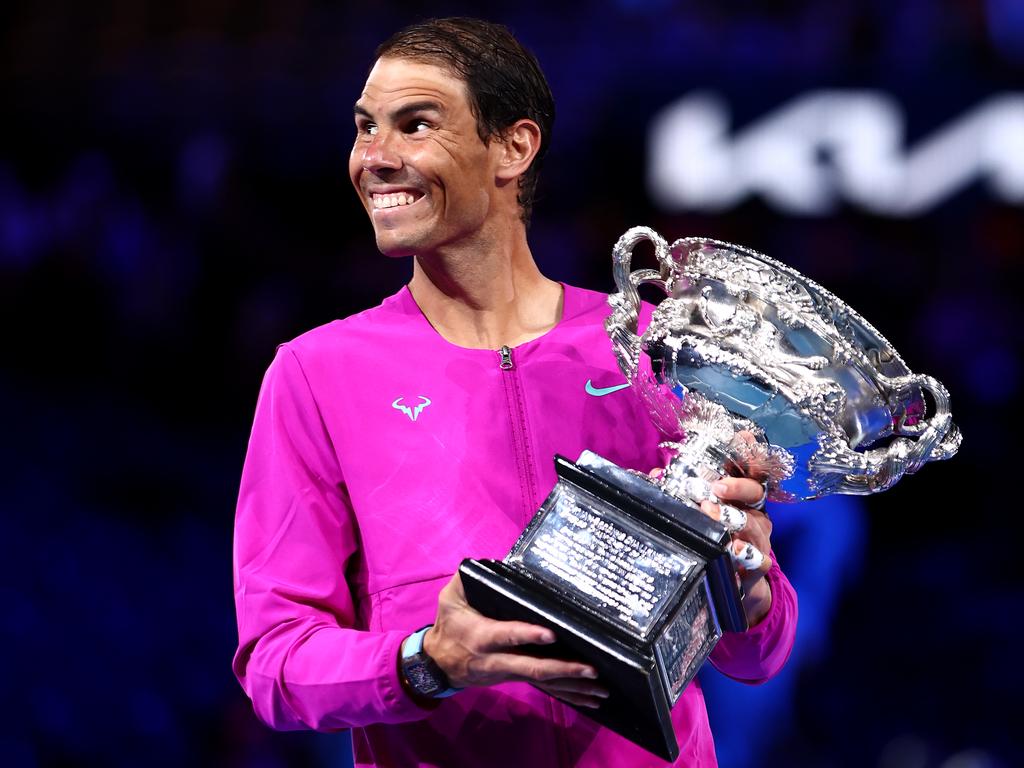 There's no ruling out Rafael Nadal. Picture: Clive Brunskill/Getty Images
The other viable men's hope is Kyrgios. His name scares everyone else in the draw. Djokovic won't be pumped about the prospect of a quarter-final match-up, though with Kyrgios there are four matches before then, which means four rollercoasters to jump on, and the 8.7 million hot takes that will follow.
The ankle is not an issue. He was on court the day after his United Cup withdrawal. Only he knows the true reason, but the assumption is it was more about self-preservation, mentally and physically, than anything else. Getting mind and body in harmony was the reason for his career-best year in 2022. The quick conditions will suit. Prepare for another wild ride, for expectation has never been his friend. It's all about what he's putting on himself.
Twenty-two-year-old Canadian Felix Auger-Aliassime is not far off that top-four bracket. He ended 2022 with a 20-3 run, including his defining moment so far, basically winning Canada the Davis Cup. A shock first-up loss to Alexei Popyrin in Adelaide wasn't ideal, but with ever-increasing maturity in big moments (he lost his first eight tour finals, but has won four since) he is a big threat to Nadal, Medvedev and Stefanos Tsitsipas in the top half.
Tsitsipasis hard to ignore, but harder to tip with any confidence he'll break through. The lateral thinker has been threatening since beating Roger Federer in Melbourne in 2019. He's lost to players ranked 40 and above at the past three majors. Stalactites on Lonsdale St and plenty of support will help, but the key for the Greek is other big guns having the stuffing knocked out of them in week one.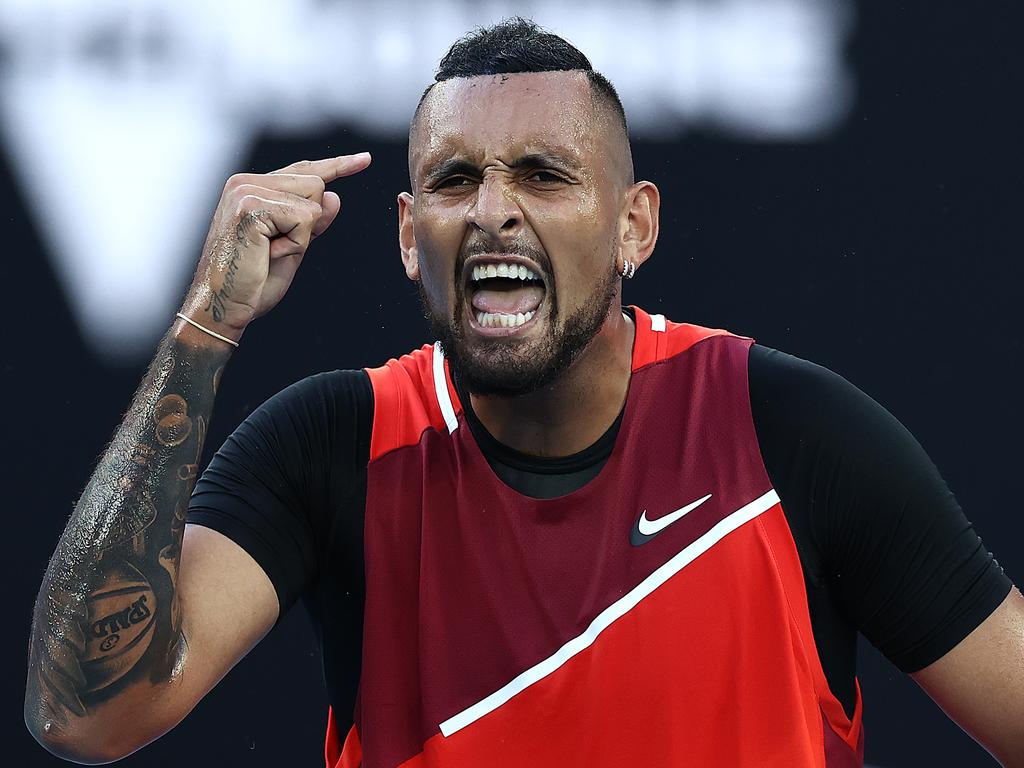 No one will want to take on Nick Kyrgios. Picture: Cameron Spencer/Getty Images
The bottom quarter of the draw is wide open. Casper Ruud, the quiet and underestimated No.2 seed of Norway and Taylor Fritz, the talkative American who features heavily in the Netflix documentary, are the main seeds there.
Others with an outside chance of upsetting the main hopes include Matteo Berrettini despite a horror first-round draw against Andy Murray. Should the Italian progress, the draw opens up toward a potential quarter-final with Ruud. Alex Zverev has a big game, but is 1-12 in grand-slam matches against top-ten opponents. He was on his way to really troubling Nadal at the French last year before horrifically rolling an ankle, which ended his year.
Young Italian Jannik Sinner has Aussie master coach Darren Cahill in his corner, but this looks a bit soon. Danish 19-year-old Holger Rune is being touted as the next big, big thing. Winning the Paris Masters amid a late season tear in 2022 is the reason, but whether he's seasoned enough to contend in the harsh Australian conditions remains to be seen.
It's hard to see anyone outside those mentioned figuring in a fortnight. Especially if Djokovic is dialled in.
*****
WOMEN'S
WINNER: Ons Jabeur
WILDCARD: Veronika Kudermetova
The women's side is open. Upwards of 30 players are not without a chance of doing what Ash Barty did so spectacularly well twelve months ago.
Iga Swiatek is a deserved favourite. The Pole took the Barty retirement news extremely well, going on a 37-match win streak which included a second French Open crown. She won the US Open for good measure.
Ons Jabeur made the final at Wimbledon and in New York, and is ready to make the next step with her all-court game and ingenuity.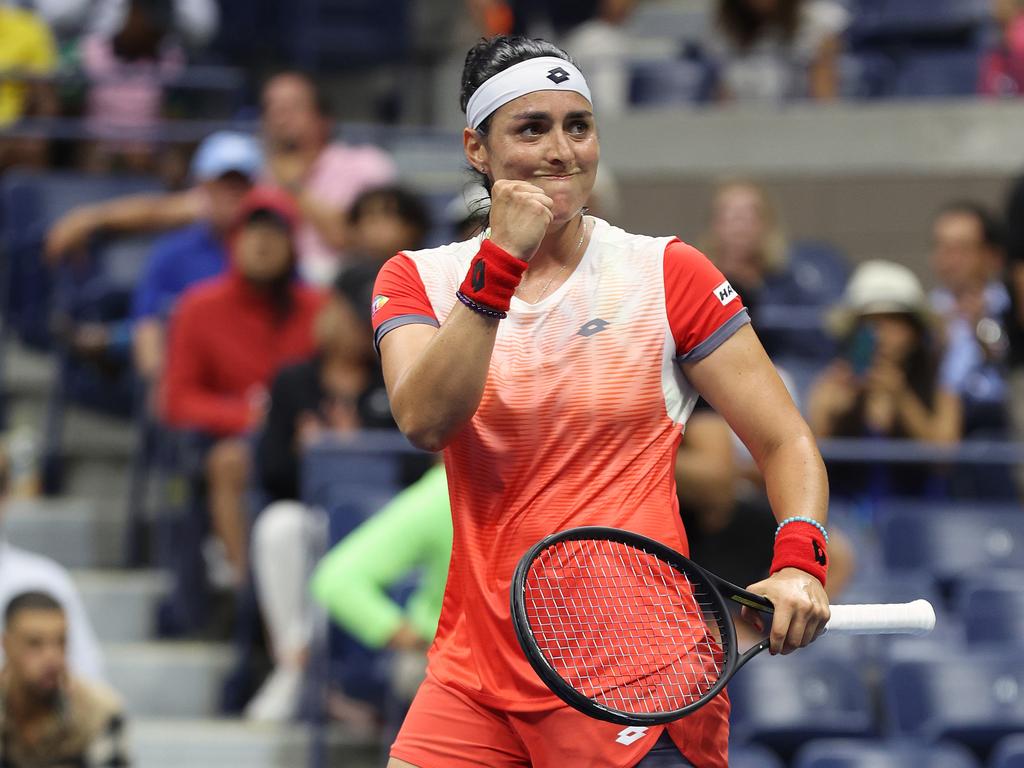 Look out for Ons Jabeur. Picture: Jamie Squire/Getty Images
Those two are just ahead of another two. Caroline Garcia, who shot from No.79 in the world in May to top five – all through finding happiness off the court, and Aryna Sabalenka, the powerful Belarussian who has also played with freedom. Twelve months ago, Sabalenka got the yips on serve and left the Adelaide International in tears. This year, she won it, and was seen around the precinct in a completely relaxed state of mind, laughing and enjoying life.
Outside that is anyone's guess, highlighted by an incredible stat since Serena Williams dominated the tour in 2015. In the 27 grand slam events since, there have been fifteen first-time women's winners. In the men's, just three.
This Australian Open is no different. Every three or four lines on the draw throws up another name you can't rule out. Elena Rybakina, Danielle Collins, Coco Gauff, Jessica Pegula, Amanda Anisimova, Maria Sakkari, Belinda Bencic, Beatrice Haddad Maia. Plus more.
To pick one, Veronika Kudermetova plays with a minimum of fuss. Beautiful smooth groundstrokes which carry surprising power are backed by a cool mindset.
Veronika Kudermetova will catch plenty by surprise. Picture: Mark Brake/Getty Images

Ajla Tomljanovic is the lone Australia hope, and lies on the outer edge of those with a chance to win it all. A two-time Wimbledon quarter-finalist, Tomljanovic has never been past the second round in Melbourne. Tomljanovic's draw has an element of danger (Madison Keys, Victoria Azarenka, Sofia Kenin in her section, but she won't be afraid to match it with anyone.
*****
BEST AUSSIES: Nick Kyrgios / Ajla Tomljanovic
WILDCARDS: Alexei Popyrin / Jaimee Fourlis
Of the 17 Aussies in the main draw, just six are women, and five of them received wildcards. Jaimee Fourlis is now working with Dejan Petrovic, who was Djokovic's coach when he arrived on tour in 2005. Fourlis won a couple of low-key events in Europe during 2022, and is a hope of winning a couple of matches, though Jabeur probably awaits in the third round.
There are also high hopes for the longer-term future with 20-year-old Olivia Gadecki, who makes her grand slam debut after missing 2022 due to vaccination requirements.
Of the 11 Australian men in the draw, all are more than capable of winning a few matches and giving show courts 2 and 3 that old Davis Cup vibe.
Wildcard recipients Jason Kubler and Alexei Popyrin, chasing a higher ranking, should make a dent in the first week.
And while all the fuss is about Kyrgios, Australia's quiet achiever Alex de Minaur has a decent look at the second week, with nothing on the draw sheet that stands out until a potential fourth-round date with Djokovic.
Demon, as always, is fit, and ready to expose any opponent if they are just a little off their game.
Adam Peacock @adampeacock3
Adam Peacock